The second coming of outdoor banners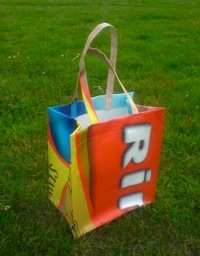 I am very proud to present the first successful project of 361 Thinking. Supermarket chain Rimi Estonia now sells carrier back made of their used outdoor posters. See coverage in Best Marketing, Postimees, Äripäev and Andrus Purde's blog.
Big up to Rimi for hearing us out and immediately going with this new and untested idea. Thanks to Ambient Estonia, too for their heroic work with actually getting these bags sewed.